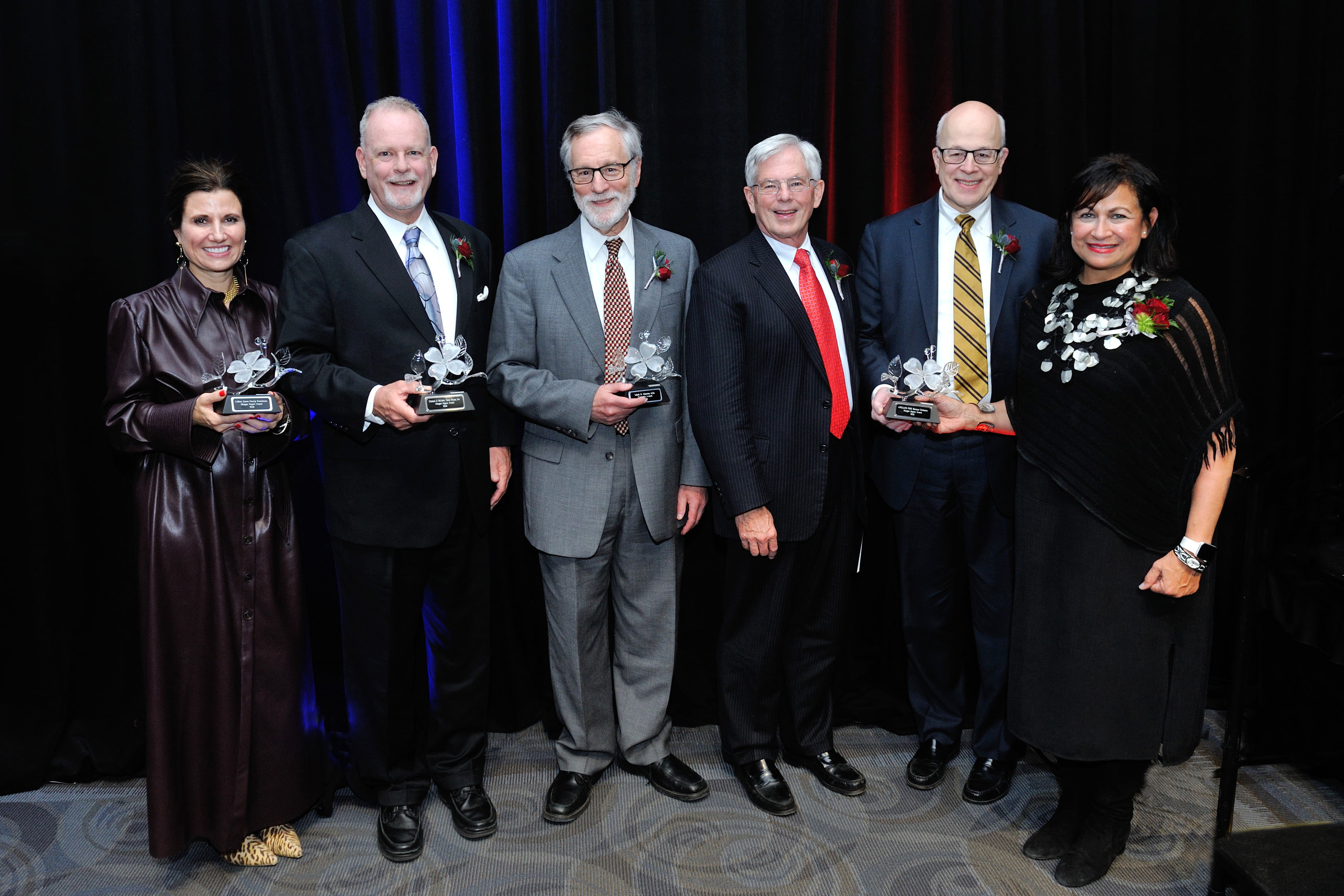 Pictured L to R: Michele Campbell, The LeBron James Family Foundation; Michael Bullock, Tarry House; Mark Munetz, MD, Department of Psychiatry at NEOMED; Charles Bittenbender, Tom Clark, Noha Ryder, Apollo's Fire
On November 14, 2019, Peg's Foundation recognized individuals and organizations bringing remarkable value to the community. More than 450 people gathered for the dinner and awards ceremony at the NEOMED Education and Wellness (NEW) Center in Rootstown.
Before the presentation, Rick Kellar, foundation President, talked about the work being done by the board, staff, peers, and partners as a joint effort. "Good leaders don't say "I" they say "we." Tonight's recipients are not only our partners, but our family." He emphasized that the work of the award recipients is changing lives everyday.  "It is the power of "we" that advances the foundation's mission and vision and creates lasting impact!"
2019 Compass Award winner, Dr. Mark Munetz, spent his career dedicated to helping people with serious mental illness and improving the systems that serve them. He planned, implemented and studied jail diversion programs, helped develop and sustain an outpatient civil commitment program, one of the first in Ohio, and further developed the model nationally. He was also instrumental in designing Ohio's Crisis Intervention Team (CIT) training. Dr. Munetz is co-developer of the Sequential Intercept Model (SIM), a framework helping communities address the problem of having too many people with serious mental illness involved in the criminal justice system. The SIM is widely adopted throughout the U.S. and guides the work of local, state and national program initiatives, treatment service providers, policy work, and federal public health efforts.
Michael Bullock, received the "Award for Making a Difference" for his thoughtful, kind, and caring leadership. He has been the executive director of Tarry House since 2004 and his warm approach and supportive spirit guide its team to build a safe home and welcoming space for those needing refuge during the storm of mental illness. He has an altruistic heart for helping people with behavioral health and developmental disabilities.
The Award for Excellence in Arts went to Apollo's Fire for its dedication to reviving the spirit of baroque music and its greatest composers. The ensemble is celebrating their 25th season of their Akron series.  Jeannette Sorrell, founder and artistic director and the artists are committed to the baroque ideal that music should evoke various passions in the listeners. It released 26 commercial CDs, including eight bestsellers on the classical Billboard chart, and won a GRAMMY® in 2019.
The LeBron James Family Foundation received the Award for Excellence in Fulfilling Promises. They are changing how we educated and care for kids, our most valuable asset. With huge hearts, open arms, and unconditional love, the James family and the LeBron James Family Foundation are inspiring a school district and an entire community to be the family that so many need. The Foundation diligently ensures learning is the focus through a supportive and safe environment that provides infrastructure and resources to all students and their families.
At the end of the night, Mr. Kellar, said "Our Founder, Peg Morgan, guided us to 'Think Bigger!' We challenge ourselves to follow her directive and engage in collaborative dialogue that sparks new ideas."