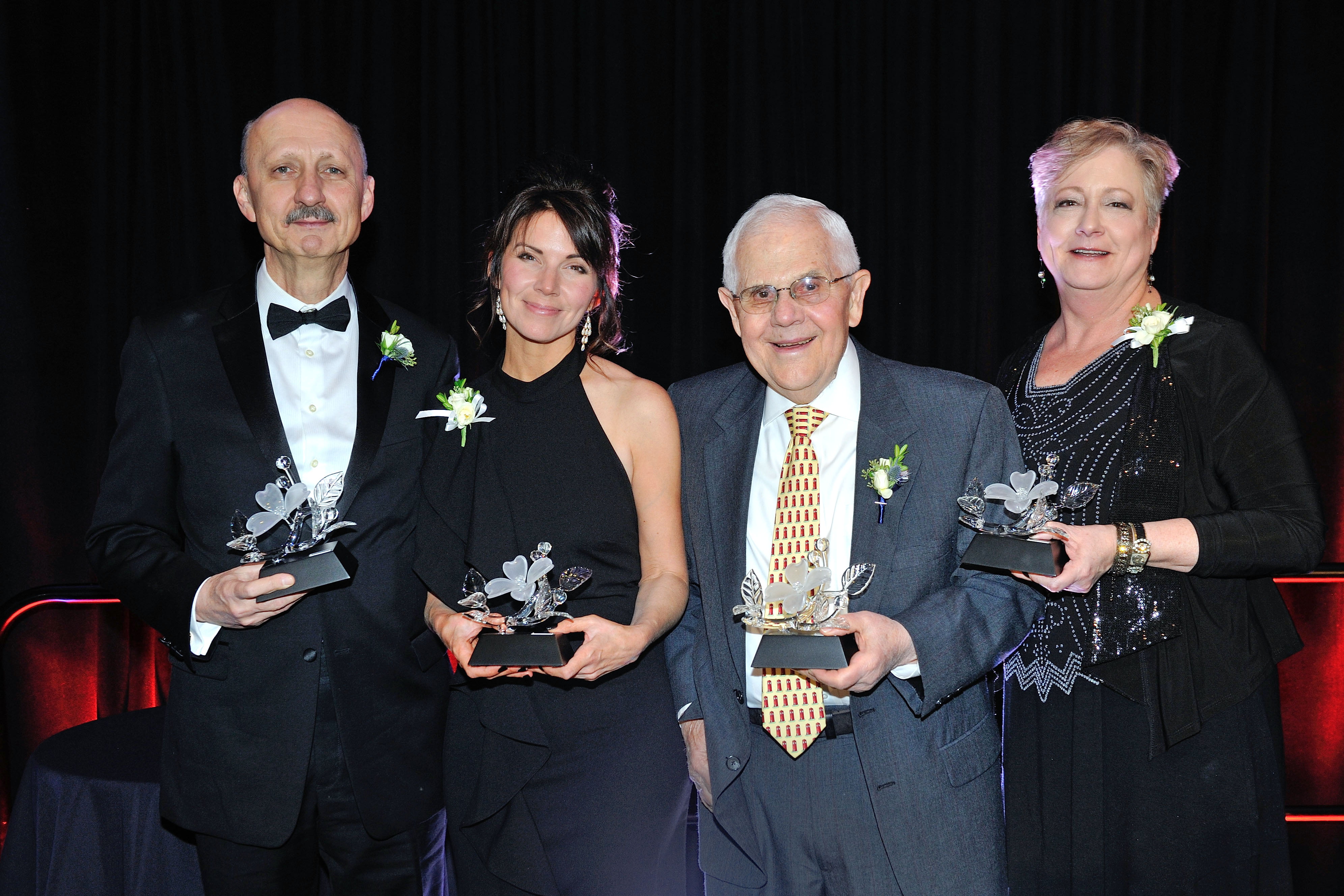 Pictured L to R: Ewald Horwath, MD, MetroHealth; Suzie Graham, Downtown Akron Partnership; Frank Youngwerth; The Honorable Elinore Marsh Stormer, Judge, Akron Probate Court
Four individuals were recognized for their impact on Northeast Ohio Thursday, November 16 during the annual Impact Awards Celebration, a red carpet event, of the Margaret Clark Morgan Foundation of Hudson.
"The program honored four deserving and creative people demonstrating exemplary performance in their work," remarked Rick Kellar, President of the Foundation. "The award recipients are sincerely dedicated individuals who are passionate about their work making a resounding impact on those around them."
Ewald Horwath, MD, Chair of Psychiatry and the MetroHealth System provide excellent behavioral health care to many of the neediest people living in Cuyahoga County. His team of professionals offer wraparound services to individuals with severe mental illness leaving the jail to help them reintegrate into the community.
Downtown Akron Partnership under the leadership of Suzie Graham, Executive Director plays a fundamental role in bringing a vibrancy to the downtown Akron community. They are the catalyst for enhancing Downtown Akron everyday creating a livable and welcoming place for all people.
Frank Youngwerth dedicated himself to the Foundation's home of Hudson as a leader and volunteer for 40 years. He continues to be actively involved in organizations providing guidance and a welcoming presence.
The Honorable Judge Elinore Marsh Stormer of Summit County Probate Court received the Compass Award for her leadership Nationwide. She directed specialty court dockets in Summit County, and is an impassioned trailblazer, serving as a role model and leading the way for judicial excellence across the country.
Over 400 guests attended the annual Morgan Impact Awards, a private event, held in the Grand Ballroom of the NEW Center at Northeast Ohio Medical University (NEOMED) in Rootstown Township. The evening concluded with a rebranding reveal. Kellar announced, "The new name, Peg's Foundation, honors our founder, Margaret "Peg" Morgan and better represents her spirit, strength, and heart. It also reflects the effective, compassionate, and relevant work of the Foundation."
A video showing interviews from 2008 of Peg Morgan highlighted her intent for the Foundation.  Rick Kellar announced that beginning in January 2018, the Margaret Clark Morgan Foundation would be Peg's Foundation.  He reminded the attendees of the family's struggle finding appropriate care for their son, who had schizophrenia, and that mental health is the primary focus of Peg's Foundation's grants. The Foundation's mission remains the same: To improve the lives of people with serious mental illness by investing in innovative projects in Northeast Ohio having national transformational impact.