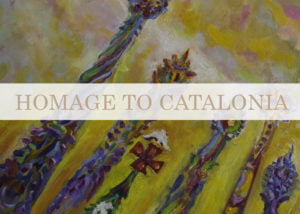 José Sacaridiz is a full-time artist and educator, exhibiting and teaching in many diverse venues from the Vermont Center for the Arts to The Cleveland Institute of Art. While his styles are distinguished by widely differing bodies of works, they all share three common factors; color, beauty and emotion.
In this third exhibition at Peg's Gallery, José chose to combine a narrative and allegorical approach to his families' history in Catalonia as recalled from the Spanish Civil War.
Inspired by Gaudi's Basilica of The Sagrada Familia, he has elected to focus his interpretation on a single completed canvas accompanied by many of the preliminary sketches and paintings that led to its development and creation.
This exhibition offers a rare glimpse into the many personal conceptual changes the artist makes in seeking to discover ones self within the context of the work.
Also included in this show are landscapes paintings of Barcelona inspired by the unique style of other works by Antoni Gaudi.

Photography by Shane Wynn