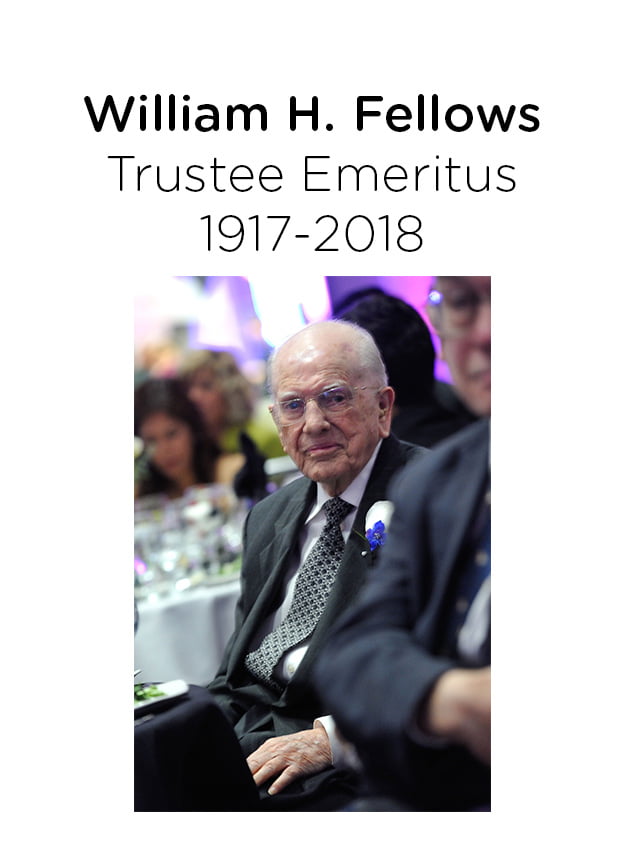 William "Bill" Fellows, Trustee Emeritus, died peacefully on April 9, one day short of his 101st birthday. He was born in Troy, New York and was the only child in his family to attend college. Bill played trumpet in a dance band and worked his way through the University of Illinois and Alford University graduating with a degree in Engineering.  Married for almost 75 years to his wife, Marge, they raised three children in Wadsworth, Ohio while he worked as a Management Consultant.
Bill was a trusted confidant of Burt and Peg Morgan. It was his friendship, keen business sense, and loyalty to the Morgan family that brought him to Peg's Foundation. He was a special friend to all of us, and much of what we have become, individually and collectively, we can attribute to his kind, gentle, and confident work in our early years. As a founding trustee, Bill helped envision, plan and carry out our work. Committed to making a difference, he believed our efforts would bring a better life to people living with mental illness.
He was best known for his graciousness, his smile, and his witty sense of humor.  We will all miss him deeply.